A Harvest Delight: The Honeycrisp Spritz
September 20, 2022 | Reading time 1 minutes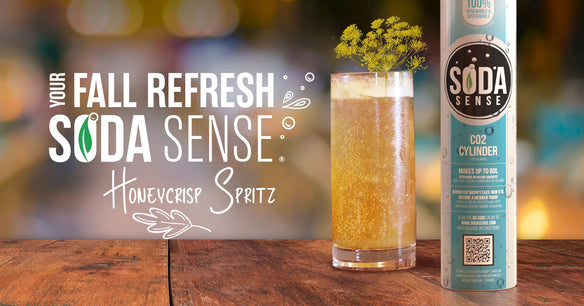 It's time to cozy up for the best time of the year…fall! Let's whip up some bubbly goodness, just in time for those fall sweaters and crisp breezes. The Honeycrisp Spritz's bright and versatile flavors will leave you wanting more right after that first sip!
Come on down and grab the details below! 
The Ingredients: 
1 oz. St. - Germain Elderflower Liqueur 
1 oz. Honeycrisp apple-infused dry vermouth* 
1 ½ oz. celery-fennel juice** 
2 dashes of bitters 
5 oz. apple cider 
Ice
Save tops of your fennel for garnish
*Combine 375 ml. of dry vermouth with 1 cup freeze-dried apples, let sit for 24 hours, and strain.
**Combine two parts celery juice and one part fennel juice. If you do not have a juicer, you can use a blender! Just simply cut up your celery into chunks, add a little water, and blend away. Once smooth, put a fine strainer over a bowl and strain your juice out! You can also repeat those steps with the fennel.
The Method: 
Combine the top five ingredients into a highball glass 
Pour that into your Soda Sensei bottle, and carbonate on your Sensei Soda Machine!
Fill your glass with ice, pour that bubbly goodness over it
Garnish with the fennel tops!
Follow us on Tik-Tok, Instagram, or Facebook to see this drink come to life! Make sure you tag us if you make our drinks, so we can show you off!