Your Fall Refresh: The Pomegranate Fizz
August 11, 2020 | Reading time 1 minutes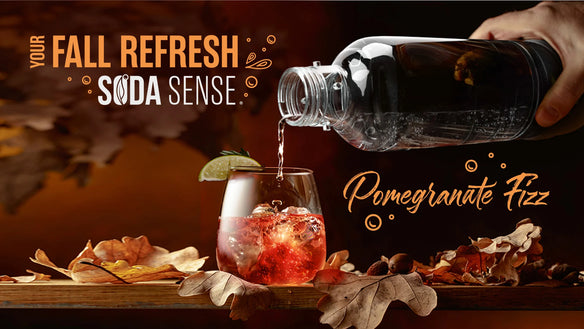 Sip in, breathe out, and fall in love – because self-care can most definitely come in the form of a spritz! This Pomegranate Fizz drink is perfect for adults AND kids!  With fall fast approaching and those crisp nights starting to roll in, we pulled together a delicious non-alcoholic fall drink, infused with some of your favorite flavors of the season. Whether you're entertaining or just unwinding by a cozy fireplace, this drink is the perfect solution! 
Come on down and grab the details below! 
The Ingredients: 
Homemade Seltzer Water (made with your Soda Machine) 

3 tbsp. Pomegranate Juice 
1 Lime
Ice
1 Sprig of Rosemary 
The Method: 
For each glass, add in your ice. 
Add in the juice of half a lime, and 3 tablespoons of Pomegranate Juice 
Make enough homemade seltzer to top off your drink! 
Garnish with a wedge of lime and/or rosemary and enjoy! 
The kiddos love this drink, and can also be easily enjoyed by adults either in their mocktail fashion, or feel free to add a shot of vodka or gin to it if you'd like! 
Follow us on Tik-Tok, Instagram, or Facebook to see this drink come to life! Make sure you tag us if you make our drinks, so we can show you off!