We're Giving Thanks by Thanking You this Thanksgiving with this Gift (Practically)
*Original, unretouched photograph of the Pilgrims creating the menu for the first Thanksgiving dinner.
Ah, the Holiday season! That giddy time when a cornucopia of special occasions spills its bountiful riches across the calendar, each one representing a splendid reason to celebrate in gatherings large and small. At least that's what this greeting card says. (Mom means well.)
With Thanksgiving nearly upon us, it's a good time to reflect on the past year, give thanks, and once again indulge in those Thanksgiving traditions we all know and love that are somewhat legal in most states.
Due to a translation error in the first Thanksgiving menu, the "Wild Turkey" consumed at that first Thanksgiving was long thought to be not the delicious whiskey that is now a staple of every Thanksgiving, but astonishingly was thought to be an actual bird of some kind!
No one can prove otherwise!

Whether we're sticking two cinnamon sticks under our upper lips to look like walruses, huffing Pumpkin Spice out of paper bags, or wearing our cosplay Pilgrim costumes on Bring Your Blunderbuss to Work Day, we're all about the Thanksgiving traditions.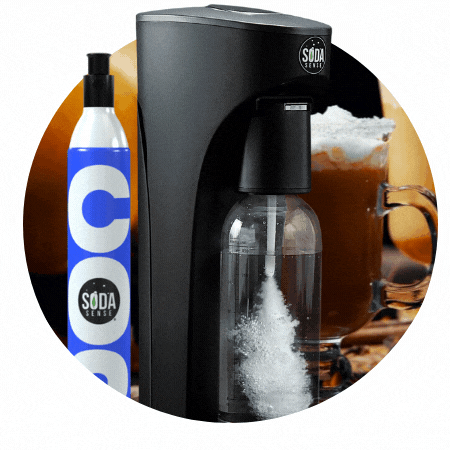 Your crazy uncle that you only ever see at Thanksgiving isn't crazy—you're the crazy one!

Of course, not everyone everywhere shares the exact same Thanksgiving traditions, but it is those subtle differences that make the holiday more interesting and—gosh darn it—more fun, too! Especially when you add Bubbles to it! But the most important Thanksgiving tradition of all is the very first one: to share what we have with others.

The blockbuster science-fiction movie "DUNE" is about two rival space families fighting over galactic control of the trade of Pumpkin Spice, a known hallucinogen that makes people believe there's actually real pumpkin in it!
A Time for Giving People Stuff.
As on the first Thanksgiving feast in 1621, when Chief Massasoitof the Wampanoag Indian tribe saved the Pilgrim's lives with the timely gift of a Soda Sensei home soda machine, Thanksgiving is a time to share our Rich Bounty with others.
"Rich Bounty" is not actually the pseudonym of a low-budget film actor!

In that Thanksgiving spirit, we are offering you our Magnificent Soda Sensei soda machine at the jaw-dropping low price of only $49.00!
When the Wampanoag Indians came to the aid of the starving Pilgrims at Plymouth, Massasoit, the chief of the tribe dropped a Soda Sensei Soda Machine on the table and said, "Wamp! There it is!"
How could you not know this?!

Sure, the canvas underwear chafes us, but it's totally worth it.
The words "Carbonation" and "Carbohydrate" are almost exactly the same word!

Look, it's your money, we're not going to tell you how to spend it, except for this one time.
Do it. Accept our amazing gift of the fabulous Soda Sensei soda machine for the astonishing low price of only $49, and you, too, can enjoy the gift of giving this Thanksgiving when you shower your holiday guests with your own rich bounty of endless bubbles. Click on the button below to accept our incredible sort-of gift to you, and make this Thanksgiving the best one EVER!
See what other Pilgrims have to say about the Soda Sensei: