How to Make Dragon Fruit Soda
June 02, 2023 | Reading time 3 minutes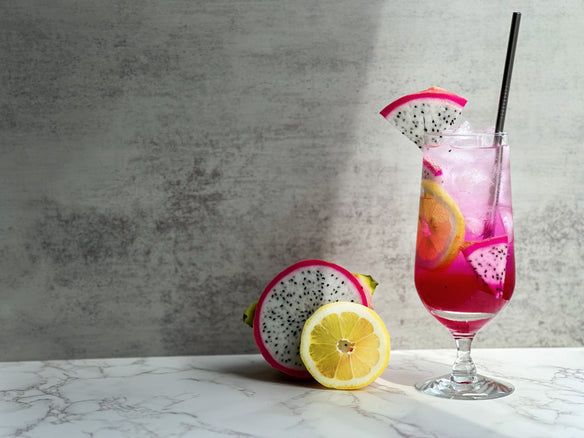 Summer season not only calls for sodas but demands them! The warm weather can take a toll on us all, but there's nothing like an ice-cold soda to cool down. But why settle for the same old sodas when you can make your own tropical twist with Dragon Fruit Soda?
Making this unique beverage is not only easy but dragon fruit itself is chock full of rich ingredients that have healthy benefits! So you're not just ditching the over-sugary soda drinks but you're now adding in a bubbly beverage that tastes amazing and is adding nutrient value to your daily consumption! In order to make Dragon Fruit Soda, we must first learn how to make dragon fruit syrup. Trust us, this syrup is versatile and so delicious that it can even be used for a rich vanilla ice cream topper!
How to Make Dragon Fruit Syrup
Step 1
Grab a small pot and add in your dragon fruit smoothie packet, water, sweetener, salt, lemon juice, and lime juice, and begin stirring over high heat. Once your liquid starts to boil, turn the heat down to low and let it simmer for 10 mins. Let it then cool down off the stove before moving to step 2.
Step 2
Grab a container and strain your liquid using a fine colander or cheesecloth. Your beautifully pink syrup can now be stored in the fridge for up to 1 month in a sealed container.
Step 3
Find your favorite glass and fill it up with ice. Bring your dragon fruit simply syrup out from the fridge and measure your serving size. Dust off your soda maker and fill your soda bottle with filtered water. Place in your soda machine and carbonate. (If you do not have a soda maker, check out our very own here. You can carbonate ANYTHING!) Pour your serving-size syrup into your glass and top off with your freshly made sparkling water. Feel free to garnish with a lemon slice and a dragon fruit wedge!
Ingredients:
1 Pack of

 

Dragon Fruit Smoothie Mix
1 cup of Water
1/2 cup of Sweetener
Pinch of Salt
1/2 oz Lemon Juice
1/2 oz Lime Juice
Lemon Slice and Raw Dragon Fruit (optional for garnish)
Soda Maker Machine (Any kind!) 
Sparkling Water
Can I Make Dragon Fruit Soda With Store Bought Sparkling Water?
Yes, however, we recommend using homemade sparkling water in order to get the most out of your dragon fruit syrup. Store-bought sparkling water typically has added sugar and other preservatives that can affect the flavor of your beverage. You can also control the desired level of carbonation with a machine at home. If you're anything like us, you also may want to consider the cost benefits of owning a machine over purchasing store-bought seltzer water. Refilling and exchanging your CO2 canisters used in the majority of soda machines is far more cost-effective in the long run and also more sustainable.
Start exchanging your CO2 canisters today with Soda Sense Refill Club!
What Does Dragon Fruit Soda Taste Like?
Contrary to belief, dragon fruit is actually packed with flavors! In our Dragon Fruit Soda recipe, you can expect to taste sweet, floral notes from the dragon fruit that taste similar to those from a pear and watermelon. Serving up this tropical, homemade soda during the warm weather of summer is sure to impress.
Are There Any Health Benefits From Dragon Fruit?
While the health benefits are inconsistent when tested on humans, there are known facts about this tropical fruit that can be encouraging to those who enjoy its taste! Dragon fruit contains several types of antioxidants. These compounds safeguard your cells against free radicals - unstable molecules that contribute to aging and chronic illnesses.
As with any fruit, it is not recommended to consume in large quantities. Please consult with your doctor before incorporating larger doses within your regular consumption.
What Recipes Can I Make With Dragon Fruit Syrup?
The possibilities are endless! From pancakes and waffles to an exotic ice cream topping, you are only bound by your imagination. Here is a quick list of things where you can incorporate our Dragon Fruit Syrup outside of a delicious homemade soda:
Smoothies
Lemonade
Oatmeal breakfast bowls
Salad dressings
Chia pudding
Fruit based cocktails
As a topping for ice cream or sorbet
No matter what you put it on, this syrup with blow your meal or tasty beverage out of the park!
Follow us on Tik-Tok, Instagram, or Facebook to see this drink come to life! Make sure you tag us if you make our drinks, so we can show you off!