Strawberry Mint Mojito Mocktail Recipe
June 01, 2023 | Reading time 4 minutes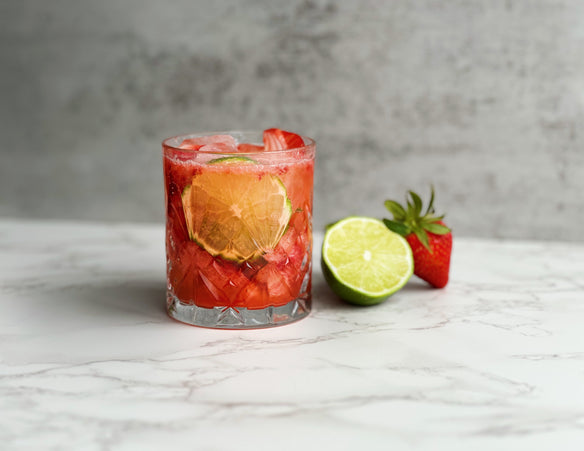 Are you looking for a refreshing and delicious way to quench your thirst this summer? Look no further than the Strawberry Mint Mojito Mocktail! This non-alcoholic version of the classic mojito is perfect for hot days, outdoor gatherings, or just when you need a tasty pick-me-up. It's super easy to make - all you need are fresh strawberries, mint leaves, lime juice, and sparkling water.
Plus it looks gorgeous in rocks glasses with lots of ice and garnishes. So get ready for an unforgettable taste experience that will keep everyone coming back for more!
How to Make a Strawberry Mint Mojito Mocktail
Step 1
Grab a rocks glass and fill it with strawberries and mint. Begin lightly muddling your two ingredients together until fully incorporated. Your strawberries should be nice and mushy and your mint leaves pressed and dark in color. 
Step 2
Next, add lime juice, fill the glass with ice and top your drink off with sparkling water. To incorporate the ingredients more, lightly mix in an upwards direction. Don't over mix as you want your mocktail nice and bubbly. Before you take a sip, garnish with lime wheels and strawberries.
Ingredients (Serves 5):
3 Strawberries
16 Mint Leaves
0.75 oz of Lime Juice
Lime Wheels and extra strawberries (optional for garnish)
2 oz White Rum (optional)
Sparkling Water 
Soda Maker Machine (Any kind!) 
What Kind of Seltzer Water Should I Use?
We recommend using homemade sparkling water. Homemade what? That's a fancy way of saying sparkling water that you can make right from home using a soda machine and refillable CO2 canisters. Using an at-home soda maker allows you to control the level of carbonation in your water, and also guarantees there isn't any artificial flavoring mixed in with your bubbles. Not to mention it is significantly more cost-effective than purchasing cases of seltzer water from the store each month. We even make refilling your CO2 canisters as seamless as possible with the Soda Sense Refill Club where you can ship and receive CO2 canisters without ever leaving the house.
Lots of similar recipes will tell you to use a lime-flavored carbonated beverage, typically sold at grocery stores. However, we strongly advise against this! With already 3/4 oz of lime juice in your Strawberry Mint Mojito Mocktail, the need for even more lime flavor is completely unnecessary. We like to keep our recipes simple and straightforward, so let's not add in more artificial flavoring found in store-bought sparkling waters!
Are There Any Health Benefits Found in Strawberry Mint Mojito Mocktails?
Absolutely there are! Who ever thought going out drinking mocktails could actually improve your health? Let's break down the health benefits found in your new favorite Strawberry Mint Mojito Mocktail ingredient by ingredient:
Health Benefits of Strawberries
Most popularly picked in June, strawberries can be bought and enjoyed all year round without losing their tasty yet healthy attributes. Strawberries are high in antioxidants and a great source of magnesium and potassium. If you were to consume around eight strawberries, it would provide you with more vitamin C than a single orange.
Source, WedMD
Health Benefits of Mint Leaves
Mint is a mighty powerhouse for being such a small herb. Although it would be difficult to consume this herb in large quantities where you can attribute it to your daily intake of needed vitamins and minerals, it is possible to receive the health effects of this herby leaf long-term! For example, mint is a good source of vitamin A, a fat-soluble vitamin that is crucial for healthy eye development and night vision.
Also, we have all likely encountered a well-intended aunt who catches wind that your stomach is unhappy and you are cramped over in discomfort, and her remedy is immediately a mint tea. Hate to break it to y'all, but mint can actually help relieve symptoms of irritable bowel syndrome and poor indigestion! A win for all the aunties who are remedy masters.
Health Benefits of Lime Juice
No surprise here, limes and lime juice are high in vitamin C and antioxidants! Research has even found that the flavonoids in this citrus fruit can help reduce inflammation, lower cholesterol levels, and help protect your skin from UV radiation.
Lime juice is also packed with minerals such as calcium, magnesium, potassium, and iron. These essential minerals help support strong bones and teeth as well as a healthy immune system. In addition to these health benefits, the high levels of dietary fiber found in limes help promote healthy digestion and regularity.
Healthy Benefits of Sparkling Water
Not only is sparkling water calorie-free, but it also lacks the added sugar and preservatives that are found in many other common beverages each day. Sparkling water keeps you hydrated throughout the day without adding any extra sugars or calories to your daily intake. It can also help with digestive issues as it stimulates digestion by increasing saliva production which helps break down food more quickly. Plus, its carbonation helps to reduce the amount of stomach acid produced which can be beneficial for people with acid reflux.
Follow us on Tik-Tok, Instagram, or Facebook to see this drink come to life! Make sure you tag us if you make our drinks, so we can show you off!