Blueberry Maple Soda
December 04, 2023 | Reading time 8 minutes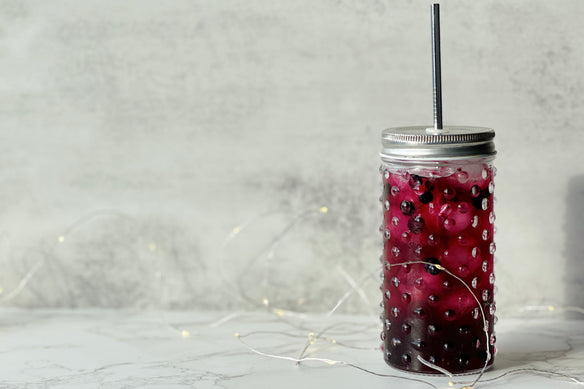 Deck the halls with boughs of...blueberries? That's right, this festive season we're swapping traditional holiday beverages for a homemade, health-conscious treat that even Santa would approve of - Blueberry Maple Soda. Made right in your cozy kitchen with a handy dandy home soda maker, this recipe embraces both the spirit of the holidays and the satisfaction of knowing exactly what you're sipping on. While it does have a sprinkle of sugar, remember that it's not just about cutting out sweeteners entirely, but understanding and controlling what you consume. So, get ready to jingle all the way to a healthier, bubblier holiday season!
How to Make Blueberry Maple Soda
Ingredients:
200 g Blueberries (fresh or frozen)
1 cup Water
1/2 cup Maple Syrup
1 teaspoon Lemon Juice
Sparkling Water
Soda Machine (any kind!)
Step 1
First, make your homemade blueberry maple syrup by placing your blueberries, maple syrup, water, and lemon juice in a pot and simmering for 20 mins. Remove from heat to cool.
Step 2
Next, strain and funnel your syrup into a sealable container. Store this in the fridge for up to 1 month.
Step 3
Your final step is to make your delicious homemade Blueberry Maple Soda. Pour 2 oz of your syrup over a glass with ice and then top with sparkling water. Lightly stir to combine and garnish with blueberries. Cheers!
What Are the Health Benefits of Homemade Soda?
Making your own soda at home offers an array of health benefits. By controlling the ingredients, you can significantly reduce the amount of artificial additives, preservatives and high-fructose corn syrup typically found in store-bought sodas. This means you're not only cutting down on unnecessary sugars, but also eliminating potential health risks associated with such ingredients.
Additionally, you can adjust the sweetness to your preference, and experimenting with natural flavors from fruits and herbs allows you to enjoy a variety of tastes while also tapping into their nutritional benefits. In the case of our Blueberry Maple Soda, blueberries bring a wealth of antioxidants, while maple syrup provides minerals like manganese and zinc. So, homemade soda can be a delicious, fun, and healthier alternative to commercial beverages, particularly when consumed in moderation.
Start making homemade soda today with Soda Sense!
Holiday Themed Garnishes
Now that we've concocted our healthier Blueberry Maple Soda, let's add a dash of holiday magic to it. Embellishing your homemade soda with festive garnishes not only enhances the visual appeal but also deepens the sensory experience. It's a simple yet effective way to spread some holiday cheer, one sip at a time. So, let's dive into some of the fun holiday-themed garnishes you can add to your sparkling soda!
Mint Leaves: These emerald beauties give a refreshing twist to your soda while adding a pop of Christmas green.
Cinnamon Sticks: Stir your soda with these aromatic wands for a hint of warm, holiday spice.
Edible Glitter: Sprinkle some on top for a festive sparkle that's sure to wow your guests.
Cranberries: A few of these vibrant berries can give your glass a cheerful, holiday look.
Star Anise: Its unique shape and subtle licorice flavor make it a striking and tasty addition.
Citrus Peel Twists: These add a bright, tangy note and look like little Christmas twirls in your glass.
Rosemary Sprigs: Resembling miniature Christmas trees, they infuse a subtle, herby note.
Not only will these garnishes make your festive soda look incredible, but can also add new aromatics and flavors to your delicious beverage. Give some of these a try during this holiday season!
Homemade Soda: An Ally to the Environment
Choosing to make your soda at home isn't just good for you, it's also a greener choice for our planet. By using a soda maker with reusable CO2 canisters, you're reducing the number of single-use plastic bottles that end up in our oceans and landfills.
Every year, millions of plastic bottles are produced globally, and only a small percentage of these are recycled. The rest end up in landfills, where they can take hundreds of years to decompose, or in our oceans, where they pose a threat to marine life. By opting to use a home soda maker with reusable CO2 canisters, you are not only creating healthier beverages for yourself, but you're also reducing your carbon footprint and contributing to a more sustainable future.
Moreover, using a soda maker is a more energy-efficient choice compared to buying bottled soda. The production, transportation, and refrigeration of bottled beverages consume large amounts of energy and contribute to greenhouse gas emissions. In contrast, making soda at home requires considerably less energy and resources.
So, by choosing to whip up your own Blueberry Maple Soda this holiday season, you're making a significant step not just towards a healthier lifestyle, but also towards a greener planet. Here's to a holiday season that's merry, bright, and eco-friendly!
Blueberry Syrup Pulp Muffins
A delicious sustainable recipe to pair alongside your Blueberry Maple Syrup. By reusing leftover ingredients, you're minimizing food waste and maximizing the yield of delicious homemade recipes to share with friends and family this holiday season.
Ingredients:
For the Blueberry Syrup Pulp:
Pulp leftover from the blueberry syrup-making process
For the Muffin Batter:
1 1/2 cups all-purpose flour
1/2 cup granulated sugar
1 tsp baking powder
1/2 tsp baking soda
1/4 tsp salt
1/2 cup unsalted butter, melted
2 large eggs
1/2 cup plain yogurt
1 tsp vanilla extract
Instructions:
Preheat your oven: Preheat your oven to 350°F (175°C) and line a muffin tin with paper liners or grease the muffin cups.
Prepare the Blueberry Syrup Pulp:
Take the leftover pulp from the blueberry syrup-making process and ensure it's well-drained.
If the pulp is too chunky, you can blend it in a food processor for a smoother texture.
Prepare the Muffin Batter:
In a large mixing bowl, combine the all-purpose flour, granulated sugar, baking powder, baking soda, and salt.
In another bowl, whisk together the melted butter, eggs, plain yogurt, and vanilla extract until well combined.
Add the blueberry syrup pulp to the wet ingredients and mix thoroughly.
Combine Wet and Dry Ingredients:
Pour the wet ingredients with the blueberry syrup pulp into the dry ingredients.
Gently stir until just combined. Be careful not to overmix; a few lumps are okay.
Fill Muffin Cups:
Fill each muffin cup in the tin about two-thirds full with the muffin batter.
Bake:
Bake in the preheated oven for 20-25 minutes or until a toothpick inserted into the center of a muffin comes out clean.
Cool and Serve:
Allow the muffins to cool in the muffin tin for a few minutes, then transfer them to a wire rack to cool completely.
Why is Maple a Fall Staple?
Maple, with its rich, amber color and subtly sweet flavor, has an intrinsic connection to the fall season. Historically, maple syrup was first produced by the indigenous peoples of North America. Later, European settlers adopted the practice, making it a sweet staple that has prevailed through generations.
The process of obtaining the sap, which is then boiled to produce syrup, typically begins in late winter or early spring when the temperatures start rising. However, the resultant syrup and its flavor are associated with autumn, often used in dishes that signify the changing seasons. Its warm, comforting taste perfectly complements the crisp, cool air and the falling leaves of autumn.
Besides, the maple tree itself is a symbol of the fall, as its leaves turn a vibrant array of reds, oranges, and yellows during this time, creating beautiful, picturesque landscapes that are synonymous with the season. Therefore, whether in its natural form or as a delicious syrup, maple truly encapsulates the essence of fall, making it a well-loved fall staple.
How Do I Refill My Empty SodaStream CO2 Canisters?
Refilling your empty SodaStream CO2 canisters is a breeze with Soda Sense. It's a user-friendly, highly efficient service that ensures you never run out of CO2 for your homemade soda adventures. Here's how it works:
Order Your Refill Box: If you already have CO2 canisters, all you need to do is order your Refill Box. Once you order your Refill Box, you are automatically added to the Soda Sense Refill Club. If you don't have CO2 canisters yet, no worries! Simply order 2 CO2 canisters and your very own Refill Box will accompany your delivery.
Ship Your Canisters: Place your empty CO2 canisters in your Refill Box, attach the shipping label and simply hand it to USPS.
New Order is Complete: The second USPS scans your Refill Box, Soda Sense immediately gets notified of your new order and ships out 2 full canisters that same day. This eliminates, the hassle of searching for CO2 refill options locally.
It's that simple! With Soda Sense, you get a reliable, cost-effective, and environmentally friendly way to keep your soda machine bubbling. Enjoy the fizz without the fuss!
The Magic of Homemade Blueberry Maple Soda
In conclusion, the journey of crafting your homemade Blueberry Maple Soda is not only a culinary adventure but also an opportunity to make healthier and environmentally conscious choices. By knowing what goes into your beverage, you are ensuring a healthier intake, even when savoring a bit of sugar during the holiday season.
This delightful soda, with its holiday garnishes, carries not just the sweetness of blueberries and the comforting flavor of maple, but also the commitment to sustainability by reducing single-use plastics. And using services like Soda Sense Refill Club, refilling your CO2 canisters becomes an effortless task, ensuring your holiday celebrations are filled with bubbling goodness. So, this holiday season, let's raise a glass to homemade sodas that are not just delicious, but also kinder to our planet.