How to Exchange and Refill Your CO2 Cylinders
November 29, 2023 | Reading time 5 minutes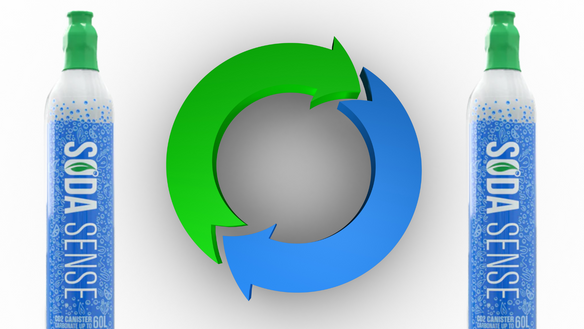 Are you tired of finding empty canisters stuffed in your kitchen drawers because you forget to buy new ones? Or do you often face the disappointment of finding out that the big box store you go to for exchanging canisters is out of stock? We are here to make the process much easier for you, with no hassle and no need for you to leave your home!
Where To Exchange SodaStream Canisters
You can exchange and refill your SodaStream canisters through the Soda Sense CO2 Refill Club. Our Refill Club will exchange any brand's 60L canisters making it easier than ever to get a reliable supply of sustainable CO2 straight to your front door.
Learn more about joining the Soda Sense Refill Club today!
The Simplicity of Our CO2 Refill Program
Our CO2 Refill Club is so simple, it can be explained in 3 easy steps:
Simply put 2 empty 60L CO2 canisters into your Refill Box*
Attach our complimentary return label to your Refill Box
Place the Refill Box in your mailbox or bring it to a USPS drop location
Once USPS scans your Refill Box, we'll automatically place a new order and send you 2 full canisters that same day. We recommend having a 3rd canister, that way you can sip while we ship.
*Missing the Refill Box? No worries! Simply order your very own Refill Box today and you are automatically added to our Refill Club. It's that simple!
What Do I Do When I Receive My CO2 Refills?
Usually, with any regular product and boxes, there aren't any further instructions outside of enjoying what you ordered! However, we want to make sure you are best set up for your next refill:
Don't Throw Anything Away Just Yet!
The beauty of the Soda Sense CO2 Refill Club is you are all set for your next exchange each time you refill your canisters. That's right! We send you everything you need to complete your next refill. The Refill Box your full canisters came in can be re-used to send back your empties once they've kicked. Don't forget to keep the box in a safe place for your next exchange!
Save the Shipping Label
Inside your Refill Box, you'll also find your next shipping label. Keep this label along with your Refill Box as it is the return label you'll put on the outside of the refill box when sending your empty canisters back for a refill.
Store Your Cylinders Safely
CO2 cylinders hold all the power to make delicious and tasty sparkling beverages, but they are also pressurized. Excessive cold/hot temperatures can damage the bottles, making them less effective...and no one wants that!
Enjoy Your Endless Bubbles
Now that you have received your new canisters, Refill Box, and complimentary shipping label, you can rest easy and enjoy your sparkling beverages-- knowing Soda Sense is ready to exchange and refill your now soon-to-be empty canisters.
Related Read: How Long Will My 60L CO2 Cylinders Last?
Frequently Asked Questions:
How Can I Access My Soda Sense Return Label For My Refill Box?
If you've lost or misplaced your Refill Box return label, don't fret! All you need to do is log into your Soda Sense account and click to request a new shipping label. It's that simple!
Can I Use Soda Sense CO2 Canisters with Any Soda Maker Machine?
Yes, you can use Soda Sense CO2 Canisters with any soda maker machine that accepts threaded 60L canisters. This makes our product versatile and convenient and allows you to get the most out of your soda maker machine, no matter the brand.
Looking to exchange your Quick Connect canisters? Give our amazing Customer Service team a call today and learn more about exchanging through our Refill Club!
How Long Does A 60L CO2 Canister Last?
The lifespan of a 60L CO2 Canister can vary greatly depending on your usage habits and individual carbonation preferences. For those who prefer a lighter fizz, the cylinder may last longer, potentially providing up to 60 or more liters of sparkling water. However, if you enjoy your beverages extra fizzy, the canister might yield slightly less. It's all customizable to your taste and usage, making Soda Sense a flexible solution for all your sparkling water needs.
Read More About How Long Your 60L CO2 Cylinders Will Last Here
How Quickly Will I Receive My Refilled Canisters Once I Send My Empty Ones?
The time it takes for you to receive your refilled canisters can depend on your location within the USA. In some cases, shipping can be as quick as 2 days, while in others, it may take as long as 5 days. However, on average, you can expect to receive your refilled canisters within 3 days of USPS scanning your Refill Box. This quick turnaround time ensures you'll always have a steady supply of CO2 for your sparkling water needs.
What Should I Do If My CO2 Canisters Are Not Working Properly?
If your CO2 canisters are not working properly, don't worry - we've got you covered. First, ensure they are properly inserted and threaded into your soda maker machine. If the problem persists, please contact our dedicated Customer Service team. They are trained to assist with any difficulties you might be experiencing and will guide you through troubleshooting steps.
How Do I Store My CO2 Canisters Safely?
CO2 canisters should be stored in a cool, dry place away from direct sunlight and heat sources. Avoid storing them in places with temperature extremes, such as a fridge, freezer, or near a stove. Even storing your canisters in the car can cause damage. Canisters should be kept upright and in a well-ventilated area. Always handle canisters with care and do not puncture or drop them. By following these safety measures, you can ensure that your CO2 canisters are stored safely and won't be damaged beyond soda-making use.
Make The Switch Today!
Soda Sense CO2 Refill Club makes the process of recharging your soda maker machine seamless with its efficient refill system. By using our Refill Box, customers can easily ship empty canisters right from their doorstep. Our Refill Box and shipping labels are reusable, promoting an eco-friendly exchange process. With a flexible service model that works on demand, there are no binding subscriptions or cancellation procedures. Enjoy the endless bubbles with Soda Sense today!